Stay in touch with your audience when touching ain't allowed.
Quiz Meisters have been leading the way in live trivia activations for over 16 years now, and when our pub trivia shows were forced to take a pandemic influenced hiatus, we got livestreamin' and came up with some fun ways to stay connected with our fans. Since then, we've collaborated with a heap of different brands, producing a bunch of concepts for a full range of budgets. From interstate team challenges over Zoom, to fully customised livestream trivia over Facebook. Regardless of your budget, we'll find an online trivia experience for you that is fun, engaging and a little bit silly.
Which concept is right for you?
Premium Livestream Trivia
A dynamic online trivia experience featuring unique video question segments, a virtual answer sheet and a host (or hosts) that guide you through the gauntlet of games and quizzing. It's the closest thing to our pub shows! Use one of our pre-made shows or customise it completely.
Estimate range: $770 - $7,000
PRICE VARIES DUE TO VARIOUS DEGREES OF CUSTOMISATION & CROWD SIZE
Multiple Choice Facebook Trivia
A fast, fun and simple way to play trivia via Facebook Live where players use the comments to answer. Our system automatically scores players and measures their speed of answer to determine the winner. Can be fully branded and can feature simple audio, video or image questions.
Estimate range: $1,200 - $5,500
PRICE VARIES DUE TO VARIOUS DEGRESS OF CUSTOMISATION
A video conference trivia concept that can have players play solo or break off into virtual rooms as teams. A more interactive and intimate experience than the livestream options but it is limited to 500 participants. However, it can also be livestreamed to Facebook or YouTube to a wider audience.
Estimate range: $440 - $7,000
PRICE VARIES DUE TO VARIOUS DEGREES OF CUSTOMISATION & CROWD SIZE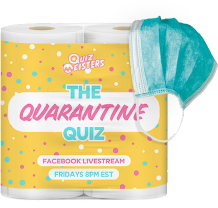 The Quarantine Quiz was our feature Facebook Live show during the COVID-19 lockdown and the pub trivia replacement for many. It's peak episode had 6,843 players from 1,949 teams, receiving 2359 live comments, 14k+ total views, 10k+ engagements, reaching 16k+ people.
Average number of teams per episode
Average number of players per episode
A quick sampler of our online trivia concepts
We're a bunch of creatives that love making shows like these! Whether working both closely with a client to deliver a fully branded show or trialling a low budget idea that we just wanted to test ourselves, we have fun!
25% Men 25-34
11% Women 35-44
17.8% Queensland
13.8 New South Wales
Pages Our Engaged Viewers Like:
Hamish and Andy
The Betoota Advocate
ABC News
Humans of New York
Bubble O'Bill
Universal Pictures Australia
IFLScience
Sponsorship and some other concepts to consider
If you are thinking of doing a branded trivia concept, you may also want to consider sponsoring or adopting one of our other ideas currently running, in beta or in development. Our No Plan For Quiz on our Quiz Kidz channel is a quiz made for kids and even hosted by one (and her dad). On the other end of the spectrum is our late night quiz with Kira Kovalevsky, The Hump Night Quiz. We also have a few concepts that are tangental to a traditional trivia experience that might better suit what you are chasing...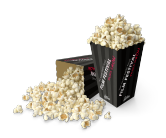 The Name These Films Film Festival Trivia Show is a film festival offshoot of our pub trivia segment that has actors reenacting film scenes badly. In this concept we ask players at home to recreate movie scenes and submit them for competitive judging and we make an interactive trivia from it. Can you guess all of the movies from the scene reenactments?
Opinion Trivia is our hilarious factless trivia concept where winning is a matter of opinion. Based on our pub show of the same name, it comes from our app development team, Sheepoll. Would you rather tongues for teeth or a giant tooth for a tongue? Comedian hosts deconstruct the livestream show while players play from home on their app and occasionally jump into the stream for a chat.

Splelling Bee is a wholesome 'call-in to play' spelling bee competition. It streams live to Facebook but also has contestants joining the host, Jimi Muirhead, via Zoom. If you get a word wrong, you are booted from the show. Whoever gets the 10th word correct, wins! The intro animation is so cute, and the jingle is so goddam catchy!
Get in touch about getting in touch with your audience.
Want some more info? Fill out this form or give us a call.